MicroFD® Small R&D Freeze Dryer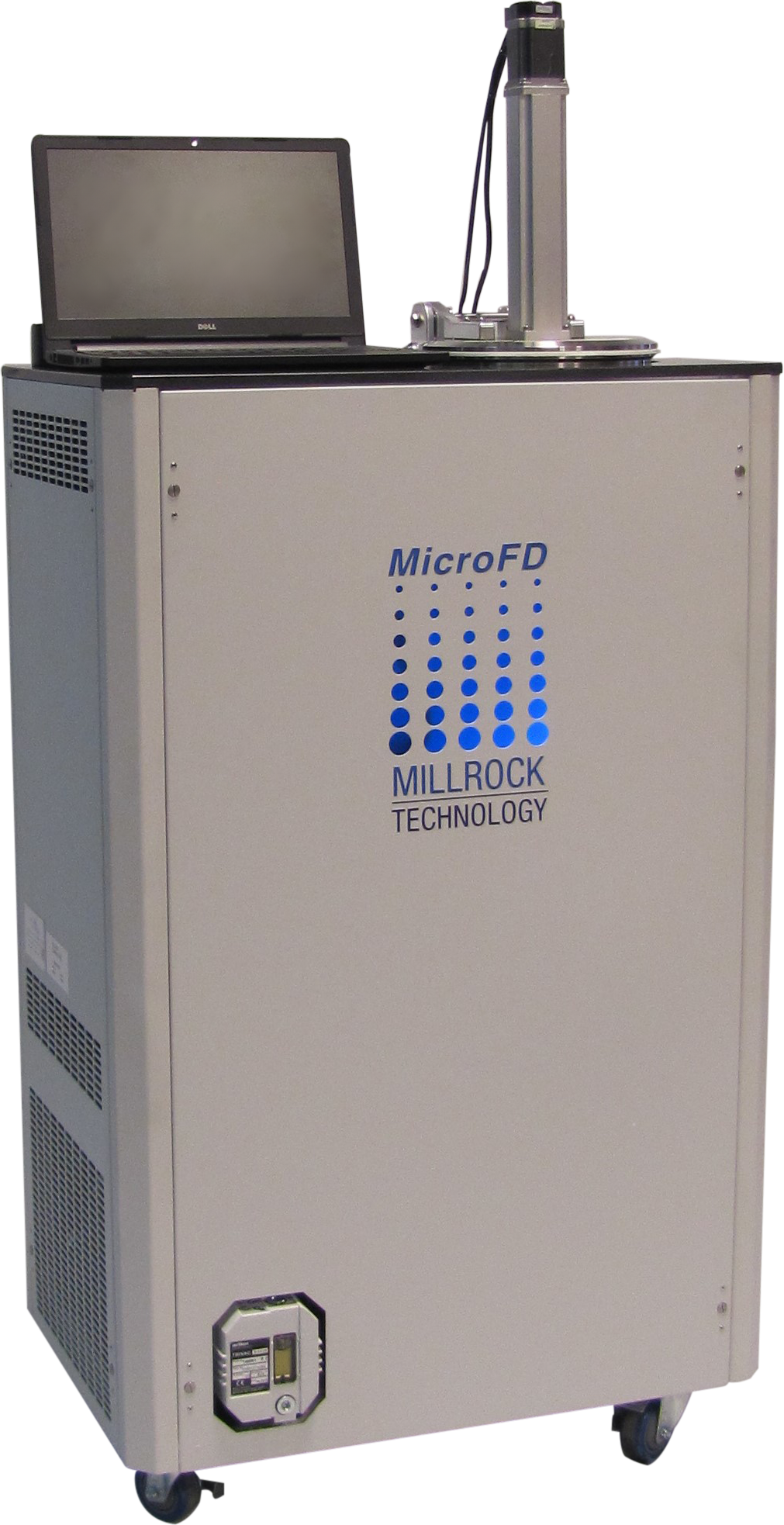 MicroFD® With LyoSIM® and LyoPAT®
Analyze -> Optimize -> Transfer
The MicroFD with LyoSIM and LyoPAT does more than larger lab freeze dryers do, but with fewer vials. The MicroFD provides all critical process parameters AND provides heat flux measurement utilizing AccuFlux®. Using significantly fewer vials (ie 19 vials if using a 10cc serum vial)  means you use less active pharmaceutical ingredient and you save time and money with extensively shorter set-up and downtime.
SPECIAL FEATURES
Uses less valuable of your valuable product for R&D.
R&D and cycle transfer with as few as 7 vials.
Determines Kv, Rp and other critical process parameters.
What Does LyoSim Do?
When the chamber wall is decoupled from the vials, there is insufficient cooling to eliminate the edge vial effect. In many cases the wall temperature would have to be so low to create uniform sublimation rates in the vial stack that the wall acts like a condenser.
In the Millrock MicroFD we closely couple the LyoSIM ring to the vials to allow full control of heat transfer. The LyoSIM ring can provide cooling to simulate sublimating vials to enable uniform sublimation across the vial stack for simulating center vials, or the LyoSIM ring can simulate edge vials to analyze edge vial effects. In both cases, the close coupling of the LyoSIM ring results in far superior results than simply controlling the wall temperature.

What Does LyoPAT Do?
LyoPAT is a dynamic, closed loop process control of Freezing,
Primary Drying and Secondary Drying.
LyoPAT is a combination of methods including controlled nucleation and heat flow control that produces an ice crystal structure that is more favorable to sublimation and controls the product temperature during primary drying.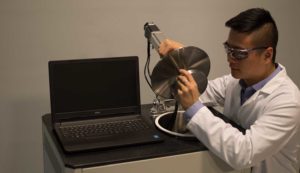 LyoPAT controls allow you, the end user, to select the various methods available for both freezing & primary drying.
A New Intuitive Controller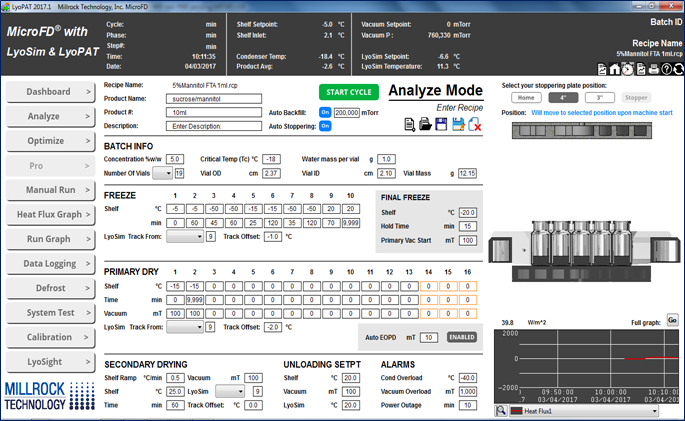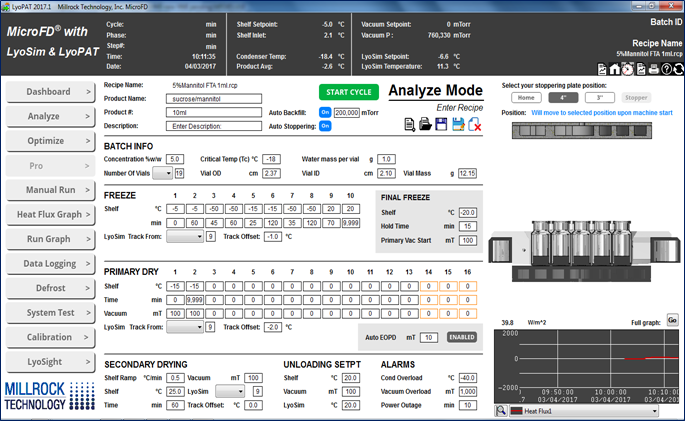 Utilize Analyze Mode and operate the MicroFD with your existing freeze drying cycle.  The MicroFD will execute your run and report on all critical process parameters.
Take the guess work out of your freeze drying process!
LyoPAT enables you to continuously monitor your entire
freeze drying process:
Freezing
Nucleation
% of Ice Formed During Nucleation
Crystal growth rate
80-95% of the freezing process
End of Freezing
Primary Drying
Kv
Mass Flow
Rp
Product Temperature (without a thermocouple)
End of Primary Drying
LyoPAT is the only Process Analytical Technology that can determine the critical process parameters in any freeze dryer for your specific application. Protocol transfer is simplified!
If process improvement is your goal….LyoPAT enables you to monitor and control the freezing and drying processes to determine the effect of different protocols on product temperature and primary drying times.
Compare your current freezing and drying protocols to new ones.
Test the effect of controlling crystal growth during freezing.
Test the effect of controlled nucleation.
Test the effect of changing shelf temperatures and vacuum levels during primary drying on your product temperature and mass flow rate.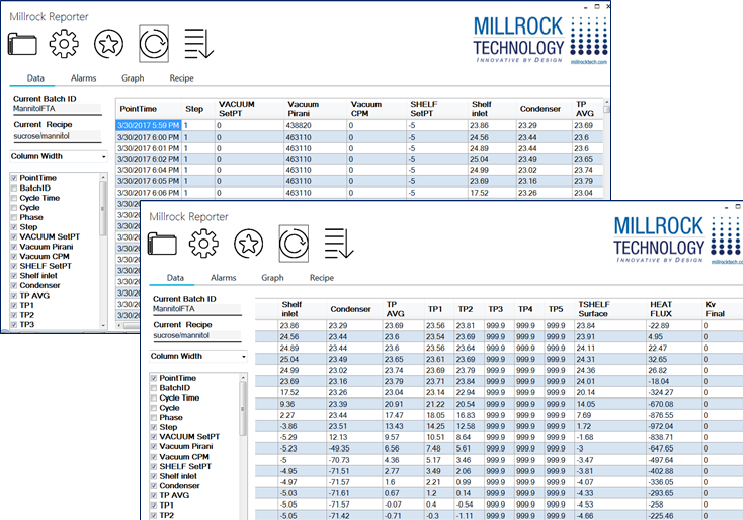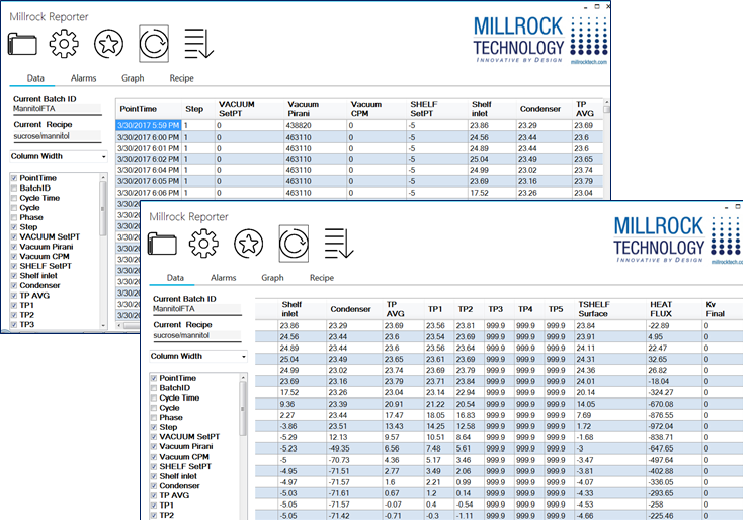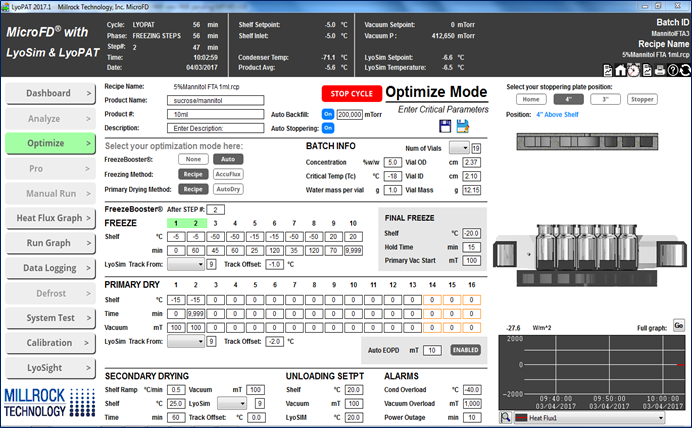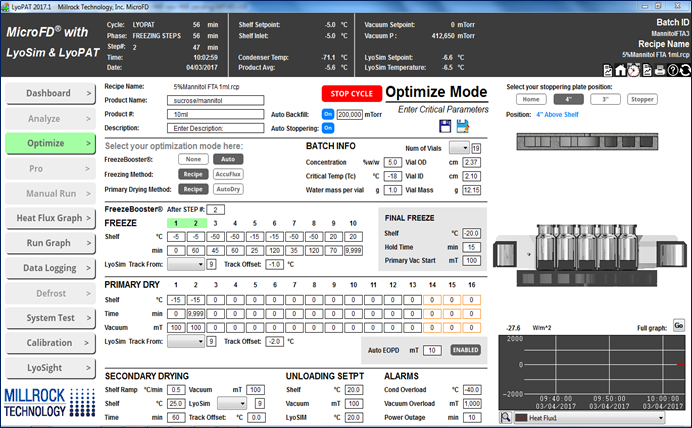 Utilize Optimize mode and the MicroFD will utilize a control feedback loop to optimize the the freeze drying run.  You can choose which control feedback mechanisms you wish to engage in the program.
A Series of Experiments Showing the Progression of Cycle Development in a MicroFD.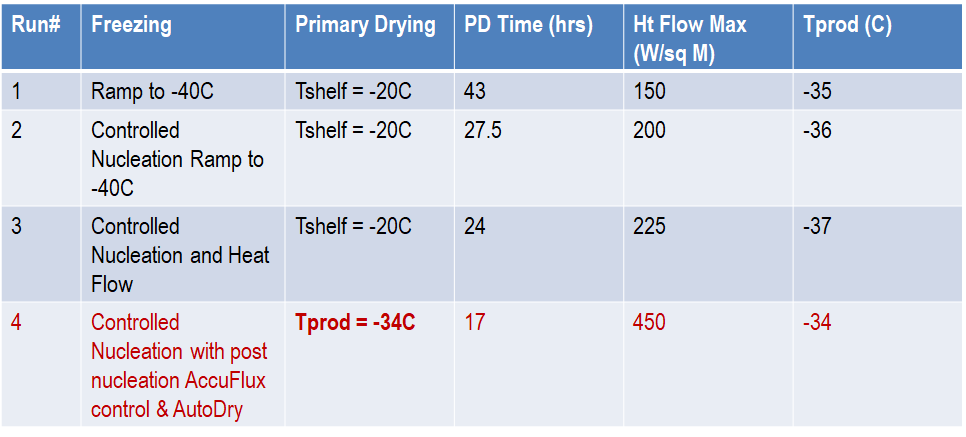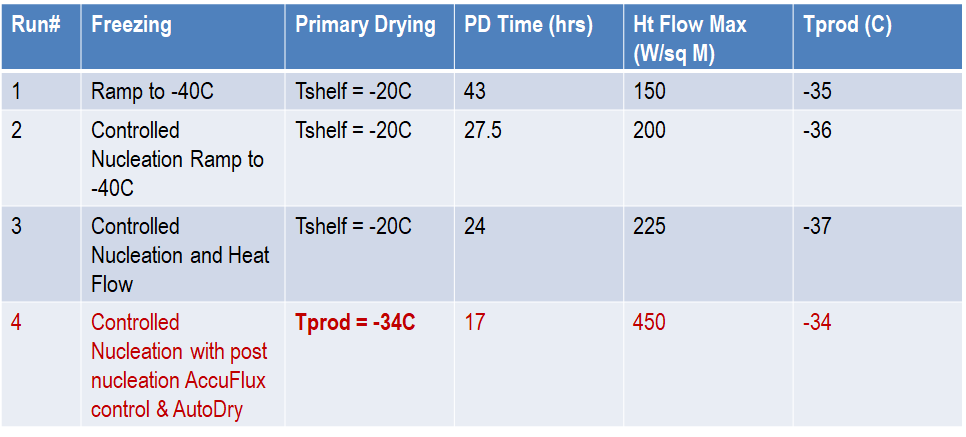 Step 1:   Previously utilized freeze drying cycle that analyzes the heat flux and other critical parameters.
Step 2:  The addition of Controlled Nucleation creating a more homogenous product crystalline structure that also allows heat flow events to be amplified because they happen within the same time frame of one another.
Step 3:  Illustrates the addition of post nucleation AccuFlux heat flow control. This helps control crystal size and thus has an effect on cake resistance to vapor flow.
Step 4:  All MicroFD with LyoSIM and LyoPAT tools are used to optimize the freeze drying cycle resulting in a time reduction of 60% from the Step 1 cycle.
Millrock Batch Reporter allows you to configure your data output in the format that you like best and provides all of the critical process parameters.
CONTROL SYSTEM
PC/PLC with ethernet and remote Internet connectivity
Manual and automatic operating modes
Graphic and numeric data collection
SHELF SYSTEM
6" Diameter Shelf
-60 to +60C
Fluid filled Stoppering/radiant plate
Electric stoppering
316L on all wetted parts
CONDENSER
External with Isolation valve
Exposed coil condenser for maximum efficiency
Hot gas defrost
1L total capacity
-70C
REFRIGERATION
Cascade refrigeration system
CFC-Free, non-proprietary refrigerants
VACUUM
Pirani vacuum sensor standard
Capacitance Manometer sensor standard
Advanced Proportional Vacuum control standard
Gas backfill standard
65LPM corrosion resistant vacuum pump with easy access
OTHER
Temperature controlled walls in product chamber
Built-in Controlled Nucleation (FreezeBooster®)
Sanitary style fittings on all sensor and vacuum ports
Built-in validation port – sanitary fitting
* Patented and Patent Pending technology.
Note: Specifications subject to change without notice. All specifications based on 20C ambient on 60Hz.