STELLAR® Laboratory Freeze Dryer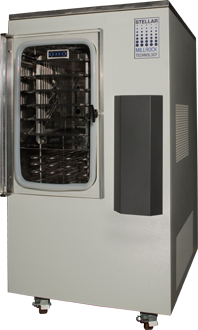 STELLAR® Laboratory Freeze Dryer
Looking for the perfect pharmaceutical freeze dryer for your lab? We have listened to all of your requests for a versatile lyophilizer to be used in applications across the pharmaceutical R&D and biotechnology industries

Millrock Technology's economical STELLAR Laboratory Freeze Dryer combines many of the features of larger systems, such as the Opti-Dry® and PLC lyophilization control system, into a small package. It's ideal for most labs, fitting a wide array of freeze drying applications from investigational laboratory work to diagnostic kits. This tray lyophilizer combines top of the line components and design techniques in addition to options such as: a manifold, capacitance manometer, hydraulic stoppering, etc. The STELLAR Laboratory Freeze Dryer from Millrock Tech is sure to fit your needs.

The STELLAR Laboratory Freeze Dryer provides more performance and capacity than any other unit in its class.

Freeze Dryer Specifications: Up to 6.25 sq ft of shelf area, 12L of condensing capacity

SYSTEM PERFORMANCE
Shelf pull down from +20 to –40C in less than 30 minutes
Vacuum pull down to 100 mT in less than 20 minutes
Vacuum leak rate less than 30 mT per hour
Vacuum level 10 mT in clean dry system (-85C)
STELLAR FEATURES
CONTROL SYSTEM
PC/PLC with ethernet and remote Internet connectivity
Manual and automatic operating modes
Graphic and numeric data collection
SHELF SYSTEM
3.75 to 6.25 sq. ft. of shelf area
Large shelves for more product capacity – 10″ x 18″ each
Pneumatic stoppering – no bladders or cables
316L stainless steel on all wetted parts
CONDENSER
Internal with baffle
Exposed coil condenser for maximum efficiency
Hot gas defrost
REFRIGERATION
Oversized refrigeration components for high reliability
CFC-Free, non-proprietary refrigerants
Hot gas defrost
VACUUM
Pirani vacuum sensor standard, capacitance manometer optional
Vacuum control standard
Gas backfill standard
195 LPM corrosion resistant vacuum pump with easy access
OTHER
Sanitary style fittings on all sensor and vacuum ports
Built-in validation port – sanitary fitting
SHELF CONFIGURATION
SHELVES
SPACING
(in/mm)
Area
(sq ft/sq M)
3
4.5 / 114
3.75 / 0.348
4
3.25 / 82
5.0 / 0.464
5
2.5 / 63
6.25 / 0.580
VIAL CAPACITY
VIAL
(ml)
DIA
(mm)
HT
(mm)
# Shelves
 
 
 
1
2
3
4
5
2
16
41
480
960
1440
1920
2400
5
22
48
241
482
723
964
1205
10
24
58
199
398
597
796
 
20
29
71
136
272
408
544
 
50
43
81
55
110
165
 
 
FEATURES & SPECIFICATIONS
STELLAR STANDARD FEATURES
SHELF AREA
3.75 to 6.25 sq. ft.
SHELF ASSEMBLY
Bulk or Pneumatic Stoppering
SHELF TEMPERATURE RANGE
-45ºC or -70º to + 65°C
SHELF HEAT TRANSFER
Hollow Fluid Filled
SHELF SIZE/FINISH
10″x18″, 316L, 20 Ra or better
CONDENSER TEMP
-53°C or -85°C
CONDENSER CAPACITY
12L
CONDENSING RATE
12L in 24 hours
CONDENSER STYLE
Exposed Coil
DEFROST
Hot Gas
COMPRESSORS (SCROLL)
2hp (-53ºC), 2hp & 2hp (-85°C)
PRODUCT SENSORS
4, Type T thermocouples
VACUUM PUMP
195 LPM, Corrosion Resistant
VACUUM CONTROL
Pirani w/ Solenoid & Needle Valve
GAS BACKFILL
Included
CONTROL SYSTEM
PC/PLC with AutoDry Software
TRAYS
One per shelf included
CABINET
35″w x 42″d x 64″h
ELECTRICAL
230V/1ph/60Hz/30A
BULK FILL (LITERS)
| Depth | 1 | 2 | 3 | 4 | 5 |
| --- | --- | --- | --- | --- | --- |
| 10mm | 1.0 | 2.3 | 3.5 | 4.6 | 5.8 |
| 15mm | 1.7 | 3.5 | 5.2 | 6.9 | 8.7 |
| 20mm | 2.3 | 4.7 | 7.0 | 9.2 | 11.6 |
AutoDry PC/PLC CONTROL
THE STELLAR
Laboratory Freeze Dryer comes complete with PLC controls and a PC for programming and data collection. Our easy-to-use software, Opti-Dry, provides automatic freeze-drying, defrost, and system test. Data can be printed either numerically or graphically. This same control system can be used on industrial dryers, allowing scaling to production. An interactive maintenance screen simplifies component servicing.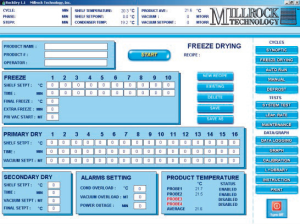 OPTI-DRY uses an ethernet platform for hardware connectivity making data transmission extremely fast. It also provides web connectivity for those who want remote access to their systems.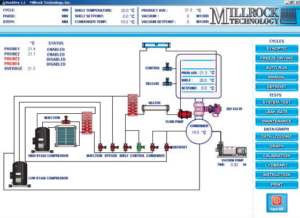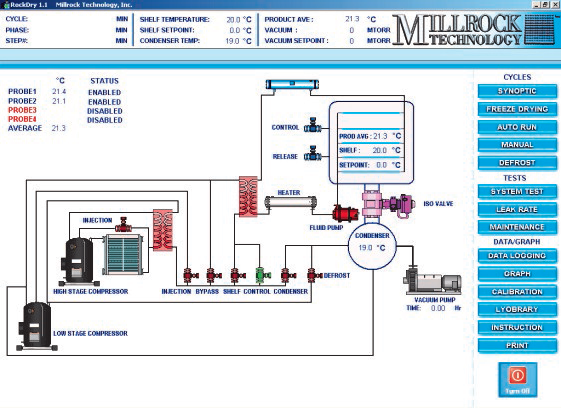 LyoPAT® determines vial heat transfer coefficient(Kv), defines process design space in a single run & develops transferrable protocols*
Up to 18 Product Temperature Probes
Capacitance Manometer (Control Only)
Proportional Vacuum Control
Dry Vacuum Pump
Stainless Steel Door
Shelf Latching Kit
LN2 Trap
Water Cooled Condenser
Hydraulic Stoppering (2 ml vials)
Resistivity Probe
Clean Room Configuration
Isolator Interface
12 or 14 port Manifold
H2O2 Integration Kit
21 CFR Part 11 Software
Validation Documentation
IQ/OQ Workbook
FAT/SAT
For a complete list and comparison of all our Freeze Dryers, please visit our main Freeze Dryer page.