Quanta Production Freeze Dryers – Lyophilizers
Taking Freeze Drying to the Next Level
Millrock Technology provides Pharmaceutical quality (cGMP) and industrial grade production freeze dryers – lyophilizers that meet the most demanding application requirements. Each production freeze dryer is custom designed to your specific application requairements. Systems are available in sizes that offer maximum throughput and finished product consistency. Matching the shelf area with condenser capacity ensures optimized system performance. The compressors, vacuum pumps, and fluid pumps are sized for the best system operating performance. As the science and equipment of freeze drying continues to evolve Millrock freeze dryers are continuously updated with the latest features and technology. This is all designed to provide you with optimum performance. Let us help you make your freeze drying project a successful one.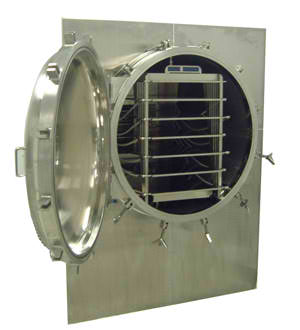 Sterile Production Freeze Dryers
Freeze Dryers used for processing pharmaceutical, biotech products and some other products require sterilization between freeze drying runs. The most common form of sterilization is steam sterilization. Not only do steam sterilizable freeze dryers have to be capable of maintaining a full vacuum they also need to be capable of maintaining high temperature and high pressures.  These extremes in pressure and temperature require special design consideration and construction. Millrock Technology provides steam sterilizable systems with either a cylindrical or rectangular chamber, to best fit the price and performance requirements of the application.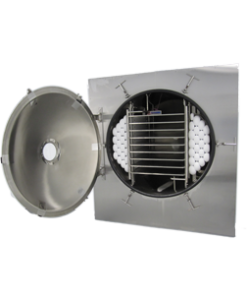 Non-Sterile Production Freeze Dryers
Freeze Dryers used for diagnostic kits, biologicals, active pharmaceutical ingredient or tissue banking applications can vary greatly. To accommodate the large range of requirements, Millrock Technology offers systems in either 304 stainless steel or 316L stainless steel. Condenser assemblies can be internal or external with either bulk or stoppering style shelf assemblies. Cylindrical chambers offer cost savings and can be supplied up to 70 square feet in shelf area. Rectangular chambers can be supplied up to 400 sq ft. Features such as isolation valves and clean-in-place (CIP) piping can be provided. Millrock works with each customer to fit their specific application.