Quanta-S Steam Sterilizable Freeze Dryers
We explore all design and budget considerations to help meet your pharmaceutical freeze drying requirements with the best possible equipment match.  Our knowledgeable engineers and consultants will help you explore all aspects of your pharmaceutical freeze dryer requirement to help ensure you get the right system for your purpose.
Some options for consideration include:
multiple skids for tight installation configurations,
redundant safety systems
clean-in-place (CIP)
isolation valves
automatic or hand secured door latches
round vs square chamber configuration
internal vs external condensers
stoppering or bulk
bellow seals
level loading doors
pass through design
a variety of documentation and testing
Pharmaceutical Freeze Drying in a Sterile Environment
Sterile production environments are most commonly found in bio-pharmaceutical and pharmaceutical organizations.   Millrock Technology, Inc supplies cGMP pharmaceutical freeze dryers with steam sterilization and 21CFR part 11 for these demanding applications.  Our support lasts throughout the pharmaceutical freeze dryer life cycle to help ensure that your project starts successfully and remains successful.  Our due diligence helps identify every consideration for a successful installation.
Lyophilizer Sterilization for Commercial Product Freeze Drying
Our Steam Sterilizable Production Freeze Dryers include:
All wetted components 316L stainless steel
Sterilization temperature: Controllable 121-125 degrees C
Evacuation and drying: Water ring pump
Insulation: High temperature CFC-Free foam with a stainless steel shroud around both chambers
Filter: 0.2 micron Sartorius with integrity testing ports
System cooling to ambient and drying in less than 2 hours using the refrigeration system and a liquid ring pump
Slope to drain
Sterile Production Freeze Dryer Basics
| | |
| --- | --- |
| Control System PLC | Opto 22 or Allen-Bradley |
| Shelf Temperature Range | -60C to +65C (+80C option) |
| Shelf Heat Transfer | Hollow Fluid Filled |
| Shelf Material and Finish | 316L, 20 Ra or better with Optional Electro-Polish |
| Shelf Area | 8 sq ft to 10 sq ft |
| Shelf Assembly | Bulk or Hydraulic Stoppering |
| Condenser Temperature | -75 C |
| Chamber Configuration | Cylindrical or Rectangular |
| Chamber Rating | Full Vacuum |
| Condenser Style | Coil or Plate |
| Compressors | Two StageCarlyle, Bitzer, Mycom (screw) |
| Defrost | Hot Gas or Hot Water |
| Vacuum Pump | Leybold Rotary Vane or Dry Pumps |
| Vacuum Control | Pirani with Solenoid & Needle Valve |
| Gas Backfill | Included |
| Product Sensors | One per shelf standard |
| Water Ring Pump | Nash-Elmo |
| Frame | Welded and Painted |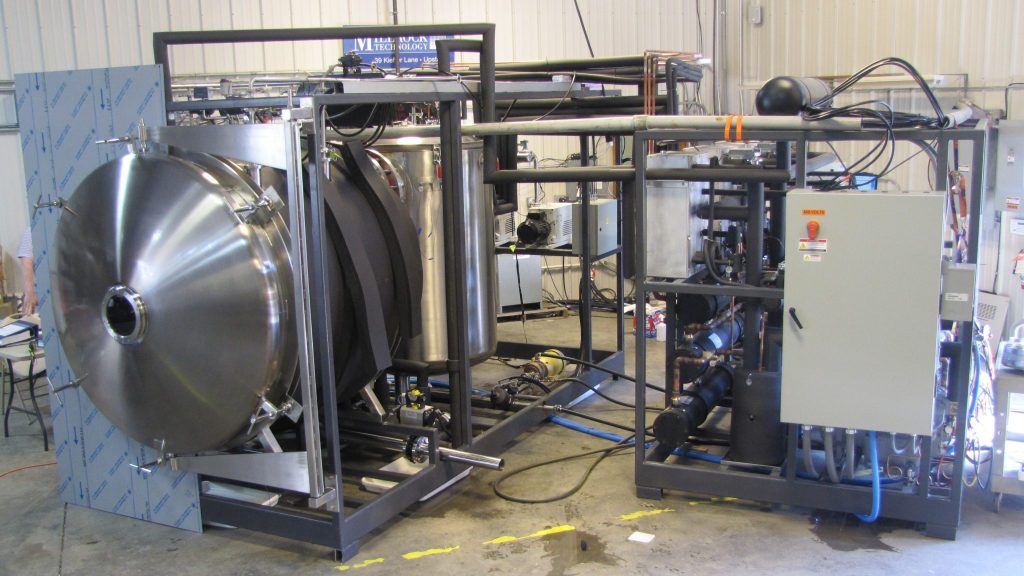 Each Quanta-S is custom configured to your requirements and needs.  The chart below provides some general guidelines for system configurations.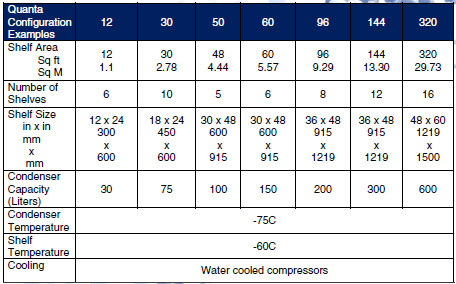 Vial capacity chart is based on general configuration samples and is an approximation.  Actual vial capacity is provided as required.